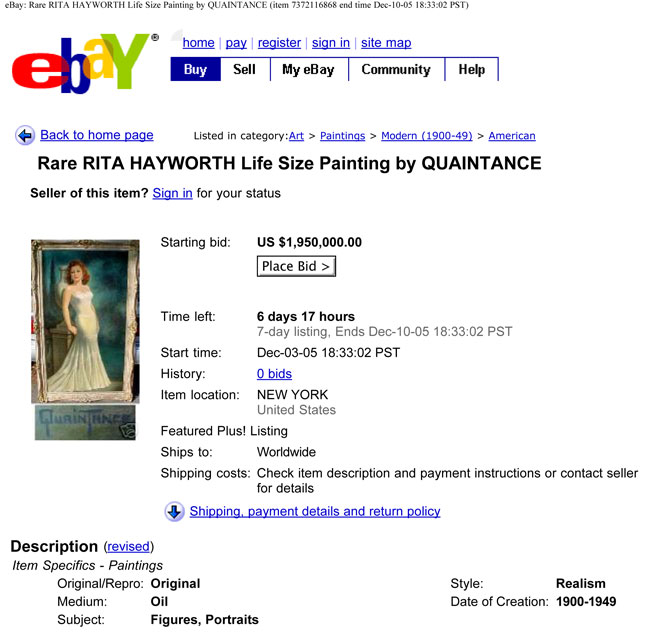 I get asked this question frequently. Conventional wisdom apparently dictates that an original work by Quaintance is "priceless."
To give two examples, consider the infamous "Rita Hayworth." Despite the fact that this full-sized portrait is of a former Los Angeles socialite named Mrs. Milton Stevens (details here), and that I provided incontrovertible proof of this to the owner, it was offered on eBay in 2005 for nearly $2 million. It was relisted numerous times, the price dropping precipitously each time, and it repeatedly failed to sell. Eventually it was consigned to an auction house where it sold for $4,000. The seller continued to insist that the subject was Rita Hayworth.
The other example is this 1927 landscape. It shows the clear influence of Quaintance's studies at the Arts Students League, and it also resembles a 1918 landscape that hangs over the mantelpiece of the family home in Virginia. Several years ago, a Philadelphia gallery offered this painting, incorrectly titled Home on the Farm, for $35,000 — having already reduced the price from $75,000. There was a second error in the offering: the man pictured is not George Quaintance, but Ben Weider, brother of Joe Weider, who employed Quaintance as his art editor for Your Physique magazine in the late 1940s. The gallery later corrected the title to My Life Begins, reduced the price to about $5,000, and — failing to sell it — turned it over to an auction house where it sold for $400. I was the buyer.
A recent auction on eBay offered a canvas I described in an earlier blog, calling it Thumbelina (details here). The opening bid was $20,000 and there were no takers. In 2012, the owner of this painting contacted me to ask the question, "What's it worth?" There are probably half a dozen sale or auction records of Quaintance canvases with a female model in them, and none has ever sold for more than $4,000.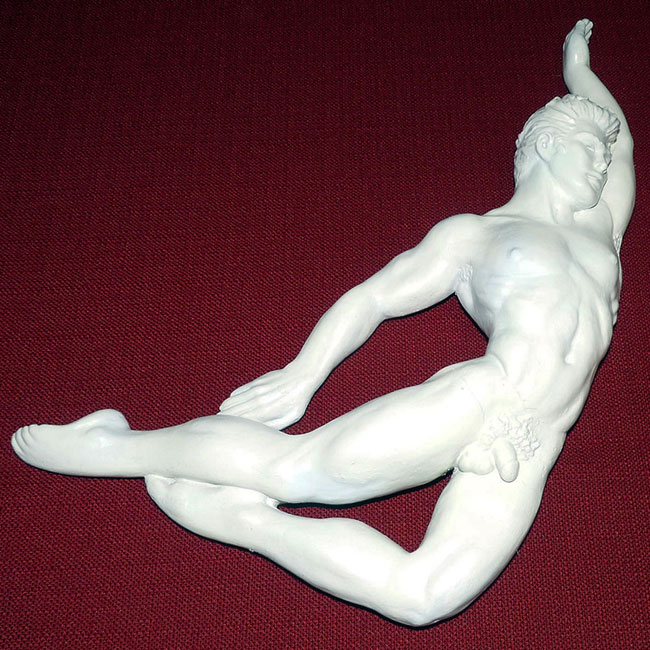 The highest documented price ever paid for a Quaintance canvas was $12,500, in 2007. The canvas in question was Siesta, which Quaintance regarded as one of his two masterpieces (the other being Preludio). It was a private sale. That purchase also included the canvas Sunrise, which commanded an equal price. The highest documented price for a sculpture was this full frontal nude male swimmer from the Neptune's Children series. It sold on eBay in 2015 for $2100.
So, to all potential buyers and sellers, $12,500 is the magic number to crack. But it will probably need to happen in baby steps, as no one has yet shown an inclination to step up with a huge fistful of dollars for an original Quaintance.
Please write to me if you have any information to supplement or contradict anything here.
(Note: click any image to enlarge it.)