There is a lot of downright wrong information about George Quaintance to be found online, and it muddies the historical record. Unfortunately, the end user has no way of knowing what data is accurate and what is not. Such is the case with the alleged portrait of Rita Hayworth.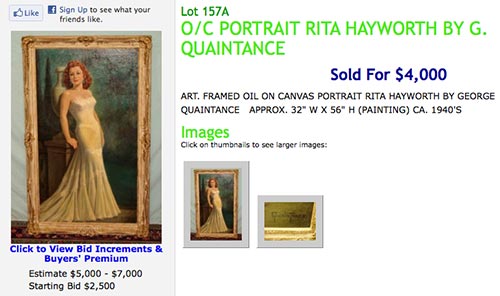 This full-sized canvas first appeared on eBay in late 2005, described as "Rare RITA HAYWORTH Life Size OIL PAINTING by QUAINTANCE." The opening bid was a jaw-dropping $1,950,000 — nearly two million dollars!
I am fortunate to have had access to Quaintance's many scrapbooks. Over the course of his life, he clipped and pasted any magazine or newspaper article in which his name appeared, usually underlining his name in ink. He also pasted sketches, drawings, photographs of his paintings and sculptures, notes about his works and more. That included photos of the many glamour portraits he painted for diplomats, stars of stage and film, politicians and their families, and many luminaries of L.A. and Washington, D.C. society.
Thus I could identify "Rita Hayworth" as actually being Mrs. Milton Stevens, wearing a gown by Irene. (Irene designed gowns for Ginger Rogers, Lana Turner, Constance Bennett, Hedy Lamarr, Joan Bennett, Claudette Colbert, Carole Lombard, Ingrid Bergman and Loretta Young, among others.) A photo of the Stevens portrait, with ancillary blurb, appeared in the society pages of The Los Angeles Herald Examiner, so the proof of the identity of the woman on the canvas was incontrovertible.
I wrote to the seller, who asked to see proof, so I sent him a scan of the newspaper clipping along with the name of the paper and date of publication. He seemed willing to be convinced. Then I got an email from a woman who I assumed to be his wife or business partner, insisting that the portrait was, indeed, Rita Hayworth. As proof, she offered a photo of the back of the canvas. There, carved into the stretcher with a knife, were the words "Rita Hayworth." The carving appeared to be fresh, although I have no evidence that it was done by the seller to perpetuate the fraud.
That same photo appeared on eBay, where the painting was re-listed with a lower price. At that time I wrote to eBay, supplied my evidence, and the listing was removed. I attempted to buy the painting, but by then the seller was not willing to negotiate with me. End of story.
Or so I thought.
Earlier this year, the painting cropped up in an online action. At the time I discovered it, it had already been sold — as a portrait of Rita Hayworth. I wrote to the auction house and got a prompt reply from a fellow who claimed not to be responsible for the accuracy of the listings. He referred me elsewhere, but my subsequent correspondence was never answered.
Thus, there is a buyer somewhere who owns a painting with "Rita Hayworth" carved into the frame that is actually the lovely Mrs. Milton Stevens wearing a gown by Irene. In the future, as that painting changes hands, Irene and Mrs. Stevens will be further erased from the record.