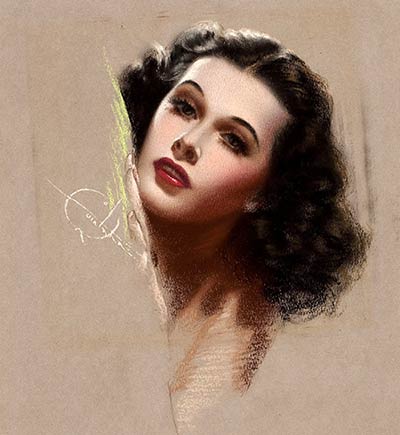 George Quintana was a well-known pin-up girl artist of the 1930s, specializing in pulp magazine covers. Little or nothing is known of his personal history, in spite of the fact that he is mentioned in every major work published about pin-up art of the 20th century. Reports in books and on the Internet cite him as being one of the top three illustrators in income, earning $50K annually, and mentioning his particular popularity in France.
Because of the similarity between the names George Quintana and George Quaintance, because they both were known to sign their names with exaggerated descenders on the letters Q and T, and because they both sometimes signed Geo rather then George, it has long been assumed by many that they were one and the same person. Quintana is also the name by which Tom of Finland refers to Quaintance in the film documentary Daddy & the Muscle Academy.
But there is no actual evidence to link Quintana with Quaintance, and if Quaintance was Quintana he did a very good job of not letting it be known. Quaintance clipped and saved in his personal scrapbooks hundreds of items of memorabilia in which his name or work appeared. These scrapbooks, in the custodianship of the Tom of Finland Foundation, cover a period from Quaintance's teen years up to the 1950s and there is nothing at all that mentions Quintana.
There is, however, a provocative "missing link" suggested by this pastel portrait of the lovely and famous actress Hedy Lamarr, by Quintana. One email correspondent related the following story to me:
"Hedy Lamarr mentioned George by name. Georgie I think she called him, not as an artist but as her hairdresser. Hedy was famous for not using hairdressers even on the movie set, although she thought some had marvelous skills, and she mentioned GQ as a friend she admired. This I heard from an old Hollywood makeup man."
If true, this is the closest anyone has come to establishing a real connection between Quintana and Quaintance.