In the years of research leading to publication of the George Quaintance biography, perhaps the most amazing discovery was one that relates closely to the town the artist called home as a child.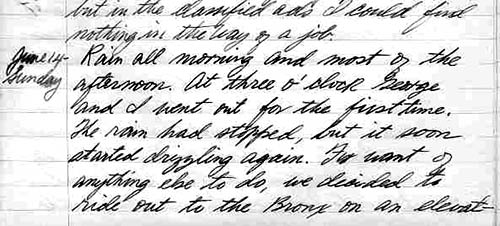 Living next door to the residence of Quaintance's parents in the small town of Stanley, Virginia was William S. Kibler. Only nine years younger than Quaintance, Kibler kept a close eye on the artist's career over the years. In an interview shortly before his death at age 90 in 2002, Kibler claimed to remember little of his association with Quaintance. Instead, he mentioned a daily journal he had kept since his early college years that might contain some clues to the artist's life.
Kibler, who had a long and successful career as a teacher, left his entire estate, including the journal, to the town of Stanley to serve as the basis for a community library. After a halting start as part of a regional library system, the memorial library recently opened in a remodeled bank branch building.
The journal encompasses more than 136,000 pages, handwritten in ink, mostly in composition notebooks. References to Quaintance pop up regularly in Kibler's entries for the 1930s and 1940s, but disappear in the 1950s. The artist died in 1957. Thanks to the community library's volunteer board and its chairman, Mike Salvino, the remarkable Kibler daily journal will soon be in the safe hands of the University of Virginia Library. There it will be digitally scanned, preserved for historical research and made available as a resource for scholars. Its unique perspective on the life of a small American town through most of the 20th century will serve a greater purpose than its writer ever expected or intended.
In another serendipitous link to George Quaintance, the Kibler library board chairman's wife and fellow board member, Judi Finter Salvino, is the artist's closest living relative. The artist was a first cousin to Mrs. Salvino's father, Carlton Finter.
The accompanying image shows a partial page from the journal from June 14, 1936, which refers to Kibler's visit to GQ that week.