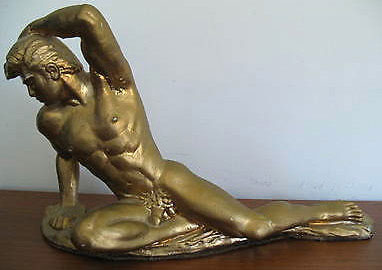 An item that appeared recently on eBay elicited a flurry of questions that, in turn, elicited this posting. The item was a bronze Narcissus sculpture.
This was a solid bronze figurine, not one of the hydrostone sculptures sold by the Quaintance Studio that someone had dunked in bronze like a pair of baby shoes or spray-painted with metallic paint, such as this image at the left. And Narcissus has four bronze brothers! Here's their story.
In 1989, German publisher Volker Janssen printed The Art of George Quaintance, the first-ever book written about the artist. (Now in its 3rd edition, it remains in print.) While on a visit to the USA in the 1980s, Janssen purchased Narcissus and the four male swimmers from the Neptune's Children series and brought them back to Germany. These were hydrostone figurines produced by the Quaintance Studio.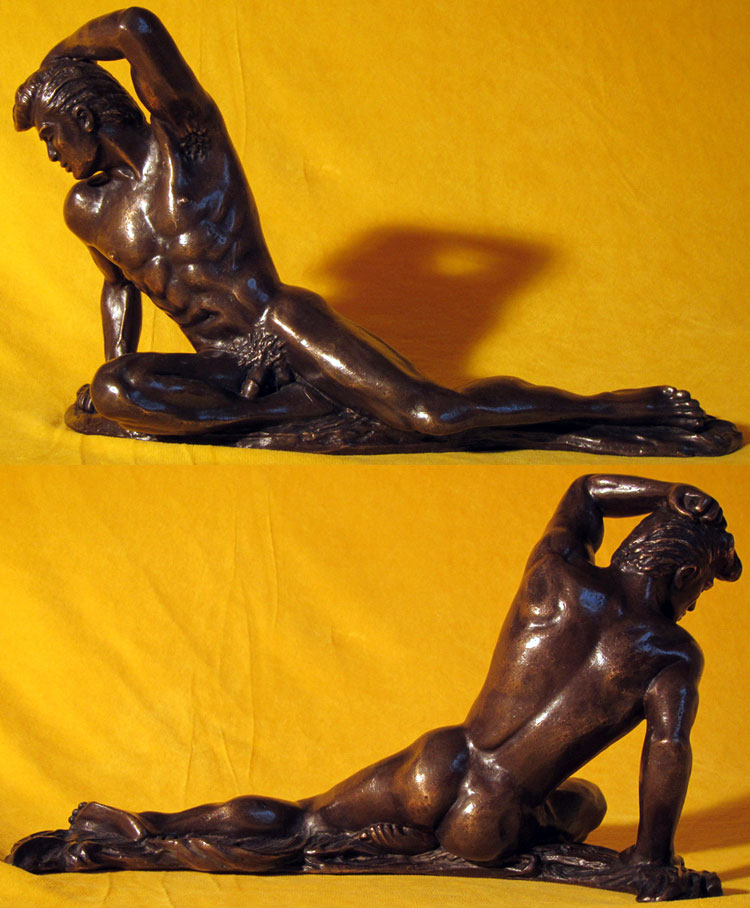 Janssen emailed me to say, "When everybody wanted to buy them from me while I didn't want to sell them, I got the idea to have them cast in solid bronze with a dark brownish-green and polished patina. So I got molds made and they were cast in a bronze foundry in Poland and sold in my gallery and also by mail order."
He originally commissioned ten sculptures each of the five figurines. When they sold out, he ordered a second set of ten each. So there are 100 in all: 20 Narcissus and 20 each of the male swimmers from Neptune's Children. The quality of the reproduction was excellent, including Quaintance's embossed signature. Even such minute details as the toenails of Narcissus's right foot, which is curled under him, are preserved.
The original selling price was US $440 for Narcissus and US $340 each for the swimmers. The second casting sold for $528 and $408 each, respectively, and the remaining copies of Narcissus sold in 2007 for $720 each.
Janssen is no longer in the publishing business. He has closed his Berlin gallery and moved to South Africa, where he now deals in rare stamps (janssenstamps.com), but he has kept a single set of the bronzes for himself. In response to the eBay bronze he wrote to me, "Got one sample each in my house and won't sell them for any price."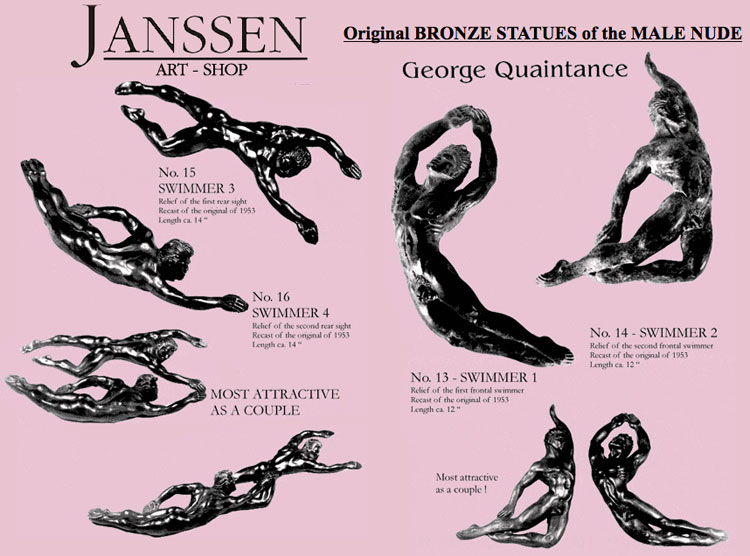 Readers and collectors should bear in mind that these bronzes are unauthorized reproductions. When they were cast, George had been in his grave for over 30 years and both his business partners were dead. The heirs to the estate had no interest in preserving their legal rights to Quaintance's legacy, so time was ripe for entrepreneurs to step up.