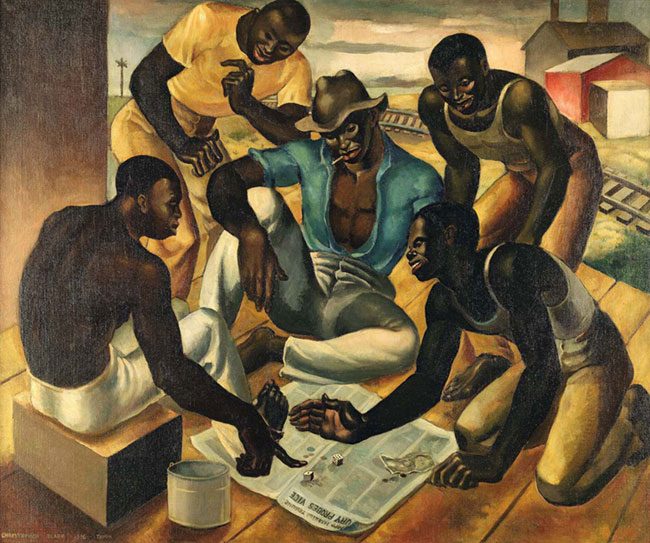 Christopher Clark is a tough guy to pin down, and the commonness of both his given name and his surname turn Internet searches into gargantuan tasks with few rewards.
Clark was a contemporary of Quaintance and, like Quaintance, his early career was spent in part painting portraits of prominent social figures. A Florida native, Clark was born in 1903. I was not able to find a date of death. The entry on Clark in Alfred R. Frankel's book, Artists of Old Florida 1840-1950, states that he was also a muralist (you can see his art in Radio City Music Hall) and that his work was featured in the Saturday Evening Post and Forbes Magazine. The article goes on to list many awards and prizes, citing specific paintings, but Internet searches turned up only one of the paintings named: The Crapshooters.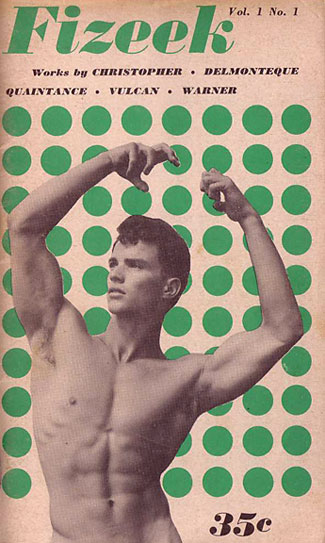 Painted in 1936, The Crapshooters is Clark's best-known work, a study of five Black men playing craps. A commentary on that painting, which now hangs in the Ogden Museum of Southern Art, in New Orleans, states that the men "are drawn and brushed with precision" and that they display "muscular contours and lively poses."
I don't know how, or when, Clark came to paint muscular, unclothed young men but perhaps he was inspired by the success of George Quaintance. Clark burst into gay male consciousness when he was featured in the premiere issue of Fizeek magazine (not Fizeek Art Quarterly). The issue is not dated but probably came out in 1957.
Clarke was the better painter. Based in Miami and mentored by Bob Delmonteque, he copied Quaintance's business model down to the last detail. He offered 8x10 black and white photographs of his paintings, greeting cards, cocktail napkins, color slides and compact catalogs. But despite his artistic skill and the erotic quality of his images, Clarke failed to capture the imagination of his public. He did not acquire masses of fans, and he is forgotten today.
I welcome correspondence from any reader who can provide further information about Clark, color or b&w photos of his paintings, or Internet sites with biographical details.

The four canvases shown here are Orpheus, Cooling Off, Arabians, and Prize Catch.