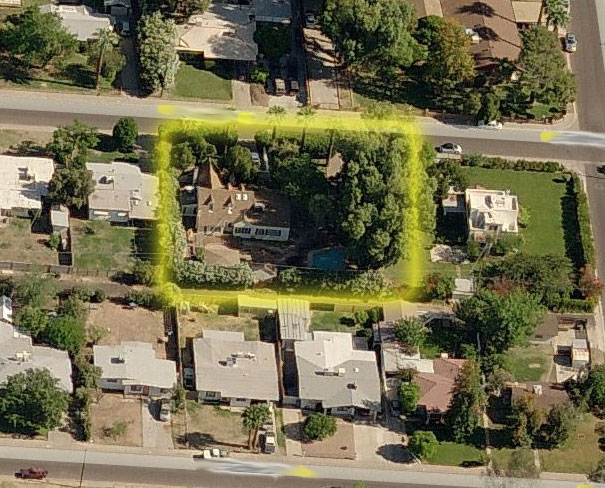 Rancho Siesta was many things. It was the Arizona studio where George Quaintance lived and worked. It was an ingenious and overwhelmingly successful marketing concept. And it was the closest the American West ever came to an honest-to-goodness incarnation of Shangri-La.
It's interesting that Disneyland opened in 1955, when Rancho Siesta was at the height of its fame and popularity. Disneyland offered Adventureland, Fantasyland, Tomorrowland and Frontierland. Rancho Siesta offered the same, but in a different package.
Rancho Siesta still exists today, without the magical overlay. It's a medium-sized home in east-central Phoenix, straddling adjacent lots. The property is surrounded by a block wall in some places and cast-iron fencing in others. Decades-old oleanders nearly obscure building where George Quaintance, Victor Garcia and Tom Syphers lived and worked. And while there might not have been the guns, cowpokes, livestock and watering troughs depicted in the Rancho Siesta of Quaintance's canvases, there was surely a steady and heady parade of beefcake in the form of the many models that George painted and Victor photographed.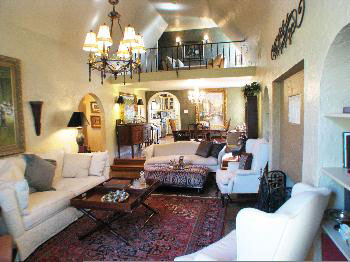 Quaintance claimed that Rancho Siesta was located in Paradise Valley, an exclusive town northeast of Phoenix, a few miles from the actual Quaintance Studio. The real location of Rancho Siesta was closely guarded. Due to the unconventional nature of the relationships among the residents, the unconventional nature of the business, and the coming and going of models, discretion was required.
There was a huge demand for output from the studio, thanks to Quaintance's business acumen. He did a brilliant job of exploiting the niche that existed in the consumer marketplace for gay beefcake.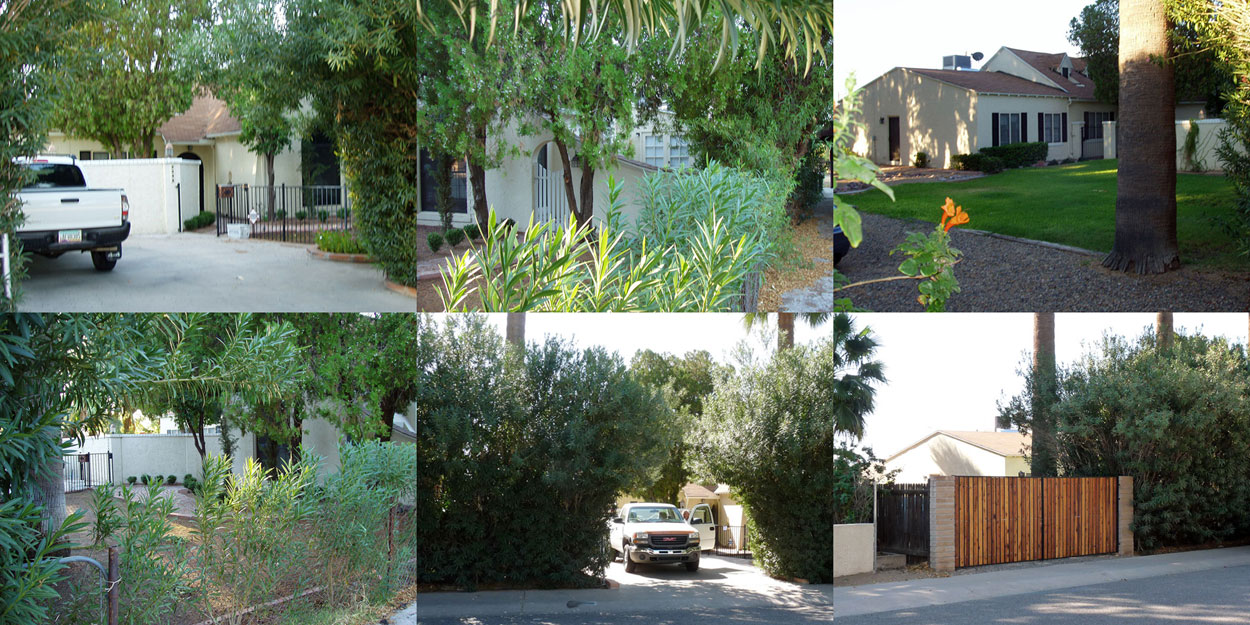 But by 1956, Quaintance decided to sell Rancho Siesta and move back to California. He had become too closely involved in the production of Physique Pictorial to leave L.A. for long periods, and he had developed a heart condition. Los Angeles would afford more immediate access to medical treatment, and probably better treatment than Phoenix had to offer. By mid-1957, Quaintance's ads in physique publications carried a new Los Angeles mailing address. Rancho Siesta was put up for sale.
In Rancho Siesta, Quaintance articulated a vision that was unique and original, and that spawned dozens of imitators and tributes. He offered idealized male images to an international audience that was hungry for them, and he offered these images in a context that was rugged, masculine and romantic, as well as sensuous and erotic. He put Levi's "on the map" as a garment that was sexy as well as serviceable. Quaintance embraced Blacks, Latinos and Native Americans long before racial or ethnic diversity existed in consumer culture, and he did so in a way that avoided caricature or stereotyping. At a time when cowboys and Indians dominated the airwaves, he exploited Americans' fascination with the West. To all of the cowboy-loving American boys who had grown into a need for a different kind of cowboy role model, Quaintance gave his own queered version of the American West. He created and breathed life into an actual and elaborate context, Rancho Siesta, where anyone who wanted to could vicariously live George's vision.
Tens of thousands of fans loved the work of George Quaintance because he made them believe that Rancho Siesta was a real place, just like in the paintings, where queer boys could grow up to be queer men and the homophobic real world would never intrude. That was so amazing, so unprecedented. People believed in it. Third saguaro on the left and straight on 'til sundown!