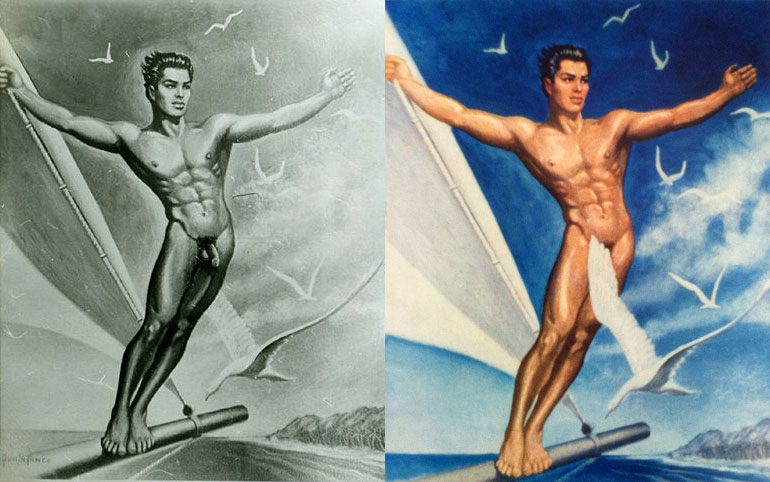 Displaying frontal male nudity was risky in George Quaintance's day. When you consider that many images of unclothed men, even with their penises concealed, often were considered to be obscene, it's no wonder that GQ omitted the penis from his every canvas.
Actually, Quaintance sketched models who were fully nude and studio photographer Victor Garcia photographed models in the nude. Quaintance is even said to have painted while he himself was nude.
As I have reported elsewhere, Quaintance would sometimes include a penis in one of his paintings, only to cover it with paint before he finished.

Quaintance females were full-breasted women who dared to bare it all. One admirer described them as "glamour nudes [with] all it takes to 'knock 'em dead' from San Diego to Bangor, from Miami to Seattle."
What's odd is that the Quaintance sculptures have no compunction about depicting frontal male nudity in great detail. One of the figurines in the Neptune's Children set, a male shown from the back, even has a clearly visible scrotum.

One thing my collection of photographs lacks is a good image of the sculpture Narcissus. The one here has a blasted hibiscus masking the penis. Ads for this image sometimes showed a sheaf of wheat kernels between the man's legs, or a penis that was simply broken off. If any readers have a good photo of this sculpture, please write to me.