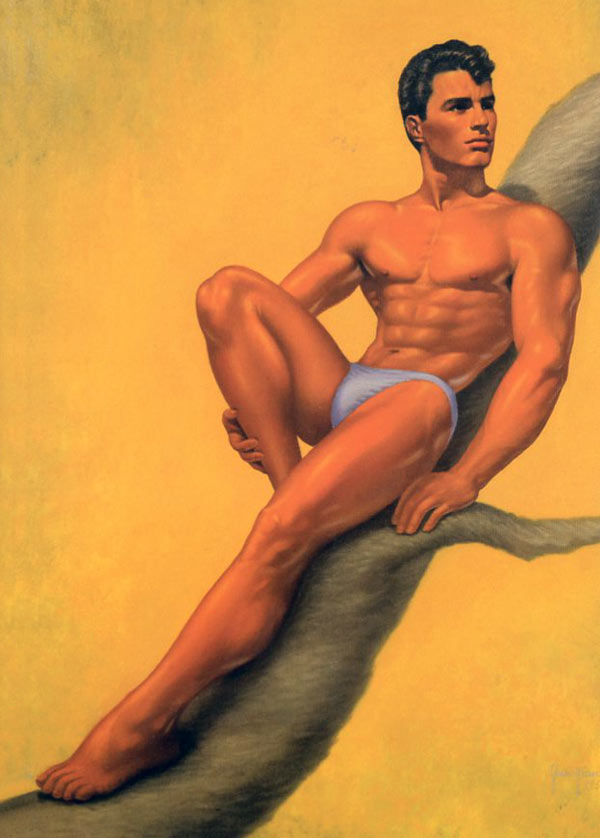 Glenn Bishop was a hugely popular physique model in the 1950s. There's hardly a single publication of that era that did not have his photos in it at one time or other. Bishop began modeling when he was 15. He was touted as an example of how teenagers could follow the bodybuilding examples of adults. Later, Joe Weider used Bishop as an example of how anyone could build a great physique by following a regimen of calisthenics and weightlifting with free weights — preferably, Weider equipment. No expensive gym membership necessary.
Quaintance painted Glenn Bishop's portrait in 1957, the year he (Quaintance) died. The 37x30-inch oil on canvas depicts Bishop, wearing a bikini, reclining along the trunk of a dead tree. The canvas is signed and dated in the lower right.
The painting is an anomaly because it never appeared in any of the Quaintance catalogs. Even after Quaintance's death, when chromes and photos of the entire Quaintance oeuvre were offered for purchase, the Bishop photo never cropped up. It wasn't until five years later that the painting was first seen by the public, when it appeared (horizontally reversed) on the cover of Demi-Gods, in December 1962.
In his final year, Quaintance painted two canvases, Falconer and Hercules. both of those, and the three paintings that preceded them, were 22x30-inch canvases. Additionally, Quaintance had switched to heroes of myth and legend for his subjects. Even his unfinished work at the time, Odin Entering the Halls of Valhalla, was known to the public. So it's odd that this portrait of Bishop exists: it's the wrong size, the wrong subject matter and it remained unknown for five years.
I had heard that Glenn Bishop was still alive, so I set out to track him down. This was in 2003. I succeeded in locating him, and he was very cordial. Unfortunately he was not able to shed any light on the painting. He never posed for, or met, George Quaintance and had not known about the oil painting until years later. So the portrait remains an anomaly.