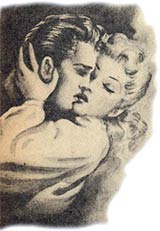 During the 1930s, George Quaintance made an international name for himself as a designer of women's hairstyles. His clients on both coasts were illustrious women of stage, screen, politics and high society. He was in great demand at beauty shows and conventions and one of his major sponsors was Procter and Gamble. In the winter of 1938 alone, Quaintance attended conventions and gave demonstrations in Atlanta, Boston, Detroit, Philadelphia, Chicago, Dallas and New York City. Quaintance was an early proponent of the theory that the design of a hairstyle must take into account the geometry of the face and hairline.
Although Quaintance designed more hairstyles than he actually executed, it is not true, as has been written elsewhere, that "he never actually touched hair." Contributing to his great appeal were shows in which he would not only design a hairstyle for a woman selected from the audience, but execute it on the spot for all in attendance to see.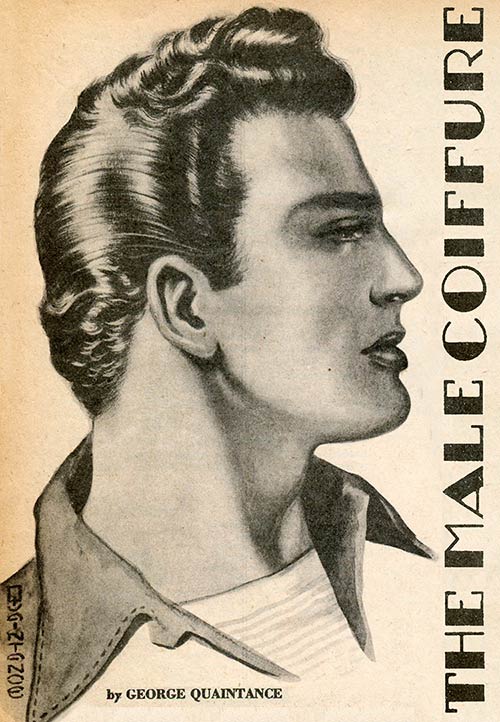 Ironically, Quaintance hated his own hair, which he considered to be too thin and limp. Later in his life he developed an affectation for wearing wigs, which he designed himself (including, if you believe the story, a blue party wig).
While working as the Art Editor of the Joe Weider publication Your Physique, Quaintance cast a pioneering spotlight on "The Male Coiffure." Drawing upon his years of expertise and authority, he applied his philosophy of hair design and facial structure to men's hair.
In a four-page article that appeared in the September, 1946 issue, which he also illustrated, Quaintance wrote, "The male coiffure, like sex, is something we are all conscious of, but something we aren't supposed to talk about! Whether it is a thing of glamorous beauty or something resembling last year's birds nest the male coiffure is supposed to be an accident of comb and brush, and about its whys and wherefors there is as much hush-hush as there is about the formula of the atomic bomb."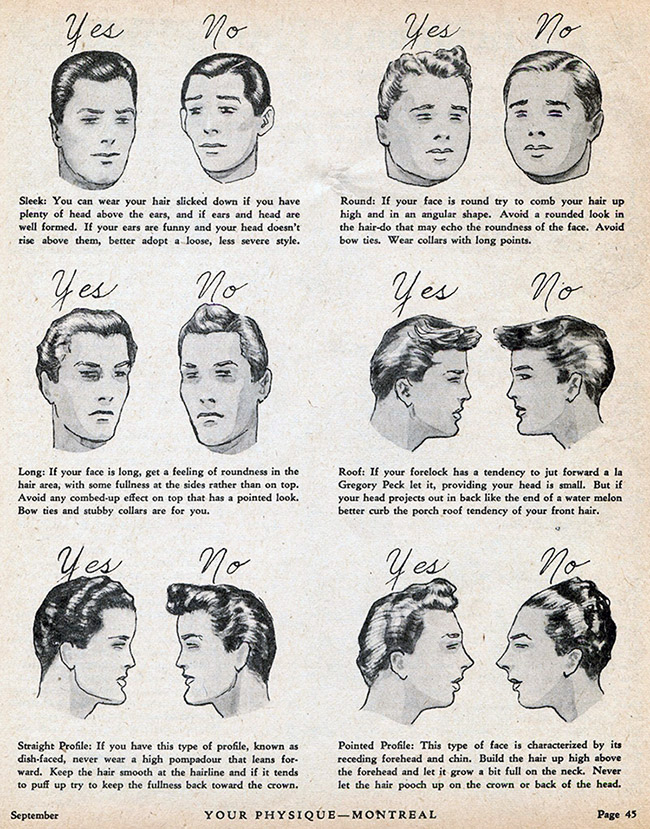 This was pretty ground-breaking for its time, and he knew it. After remarking that certain types of hair respond best to a permanent wave, he says — and we can almost see the grin on his face — "And now while I am climbing out from under the pile of debris that just fell on me for having made such a suggestion I am still undaunted …."
Popular culture quickly took note, with actors like Cary Grant and Tony Curtis, and singers like Elvis Presley and Fabian, paying lots of attention to how their hair looked and new hair products for men proliferating on drugstore shelves.
As for the hair George Quaintance didn't have but always wanted, he gave it to the models in his paintings: wavy, fleecy, shining, gleaming, streaming, flaxen, waxen.
The title of this article is taken from Warren Zevon's "Werewolves of London."