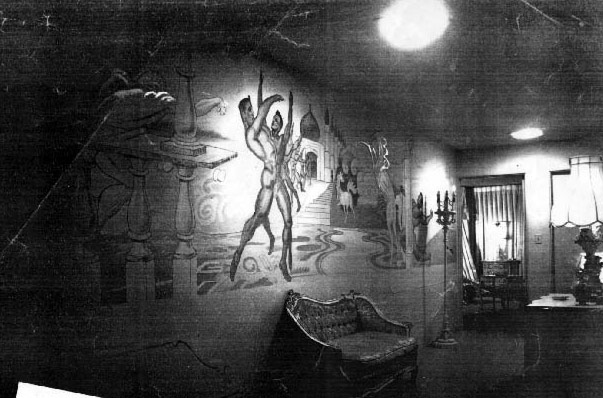 Quaintance was his own best promoter, and one of the things he promoted himself as was a muralist. But where are the murals?
There's one for sure: it hangs over the baptismal font at the Stanley, Virginia Baptist Church that his mother attended. Quaintance painted it at her request, with the blessings of the church, and it's there today for all to see. It depicts life-sized figures of John the Baptist holding the hand of Jesus and leading him into the River Jordan. Six male figures are prostrate on the shore, including an anomalous jungle boy wearing a tiny loincloth.
Quaintance was also said to have painted the mural adorning an entire wall of Mae West's boudoir, at her 7,500-square-foot Santa Monica beach house. The residence was considered to be an art deco masterpiece, but the mural was destroyed during remodeling after West sold the property. I have a poor, foreshortened snapshot of the mural. It does not appear to be the work of Quaintance.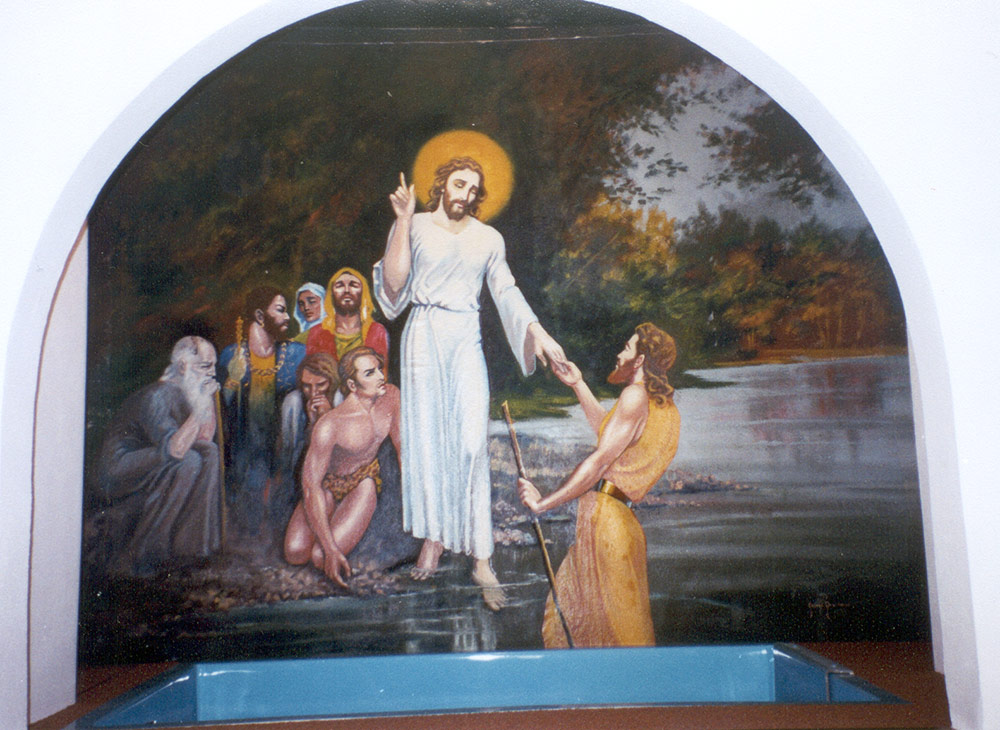 The Academy of Motion Picture Arts and Sciences Research Center has two transparencies of the mural, offering what one hopes is a better view, but despite my twice making arrangements to travel to Los Angeles to view the chromes in question, fate prevented it. One time, the person I was to meet forgot about the meeting and the other time she could not locate the images.
Early in my research I discovered references to a bar in the L.A. area that allegedly had a mural painted by Quaintance, but it turned out to be a homage to Quaintance painted by another artist.
If any reader knows of any murals that may have been painted by Quaintance, we would love to hear about them.
This entry introduces a new feature to the blog. One reader wrote to suggest that visitors be able to see larger images, so now (I hope) that if you click on an image, a larger copy of it will open in a new window (click on the larger image to close it). Right now I do not plan to go back and re-do the images already posted.