A visitor to this blog recently wrote to ask me about an original Quaintance canvas he owns. He enclosed snapshots. Lo, it was Kanaka Fisherman, but it was a fisherman I have never seen.
Two other versions of Kanaka Fisherman are known. One of them bears a 1940 date and the vertical signature. In it, the man is throwing a net. This painting (center image in photo) belongs to a collector in Los Angeles and it was purchased directly from the Quaintance estate in the 1970s. The canvas orientation is horizontal.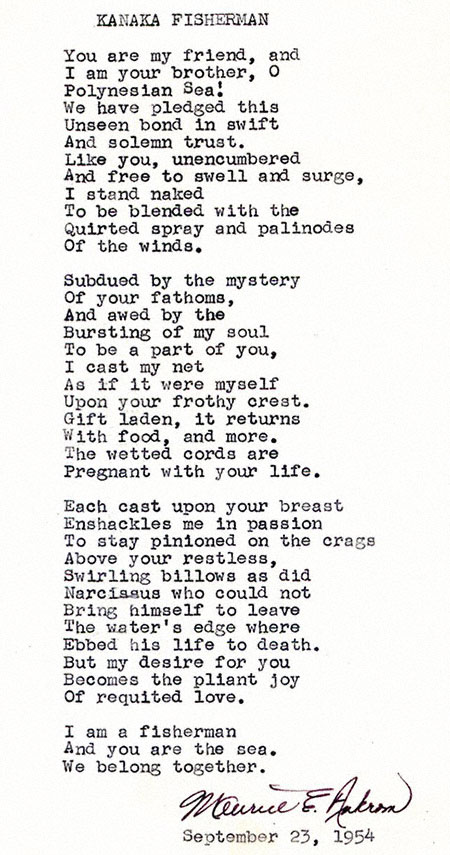 Quaintance painted a different Kanaka Fisherman in 1949, changing the orientation to vertical, repositioning the man's body and changing the net. This one bears the horizontal signature. It is the version that the Quaintance Studio sold as black-and-white photos and it's the version that is listed in all the catalogs. Studio records show that the painting was sold, but not to whom. Its current whereabouts are unknown.
In the "new" painting — which may well predate the other two — there is a horizon not depicted in the others, and the net is so diaphanous as to be almost invisible (left image in photo). This painting is also signed vertically and dated 1940. So now there are three different fisherman. A village is emerging!
Early in our research for the Quaintance biography, John and I encountered many people wanting to know whether Quaintance ever painted the same canvas twice ... and if so, which paintings? It's a question that merits its own article, and the fact that there are three Kanaka fishermen does not mean every GQ canvas has a doppelgänger or two somewhere.
Here's a coda to the story. In 1954, a Quaintance fan wrote a poem inspired by Kanaka Fisherman (the 1949 version) and sent it to George, along with payment for a catalog. Quaintance sent him a complimentary photograph of the painting, writing, "Dear Mr. Ankrom, I enjoyed your poem very much, and in appreciation, have enclosed a print of Kanaka Fisherman, along with the catalogues that you asked for. Respectfully yours, Quaintance." That correspondence was provided to me by its owner, a collector with whom I have lost touch.
By the way, today the word "Kanaka," which means "human being" in Hawaiian, is generally regarded as derogatory or disparaging.