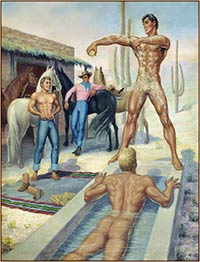 During Quaintance's lifetime, the U.S. Supreme Court had yet to come up with the Miller Test for obscenity, and nearly anyone who was offended by an image could declare it obscene. It was usually OK to show a male model's buttocks but frontal nudity was a big no-no, as was any suggestion of homoeroticism. Even if a male model wore the ubiquitous posing strap, "excessive genital delineation" could be cause for legal trouble.

Having spent 1947 in jail for using the mail to distribute "obscenity," Physique Pictorial publisher Bob Mizer employed legal advisers to avoid future errors in judgment when deciding what images could be safely published in his hugely popular magazine. Quaintance's imagery and advertising were a mainstay of Physique Pictorial in its early years, but when the painting Morning in the Desert was selected for the cover of the Feb. 1952 issue, there needed to be some changes.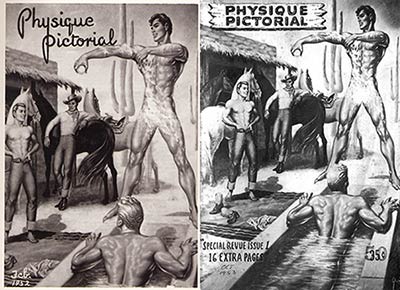 The original painting depicts a swarthy nude (model Bill Boes) standing atop a livestock watering trough, bathing. His genitals are barely covered by soap suds. Another naked man (model Scotty Bowers) is in the trough, face down. This fellow is blond, with plump, tight buns, and he's staring directly at the crotch of the bather. Nearby, another man, shirtless, is in the process of removing his jeans while a fourth vaquero watches them all.


For the cover of the magazine, Quaintance added a denser layer of soap suds, cropped the image so that the blond model's buttocks were no longer in the picture, and changed the angle of the blond's head, so that he is looking to the left.

Little more than a year later, Mizer again selected this image for a cover, for Physique Pictorial Special Review Issue 1. This time, the original painting was used, more-or-less unaltered, except for even denser and more opaque soap suds cascading down Boes's crotch and excessive ripples and reflections masking the buttocks of Bowers.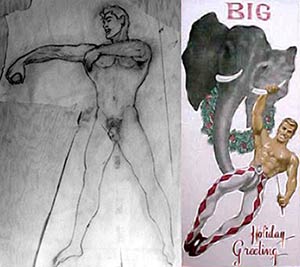 In Quaintance's original sketch for Morning in the Desert, Boes was nude. He was initially painted that way, with the suds added at the last moment. I once had a photograph of this canvas before the protective suds were added, but I sold in on eBay and did not keep a scan of it.

There was one other time that a Quaintance image ran afoul of censors. An entry in Bob Mizer's journal reflects that his lawyers balked at reprinting one of Quaintance's selections from the "Twelve Tall Men" greeting card series. The image shows a blond youth in harlequin tights being lifted into the air on the trunk of an elephant. The trunk protruding through the model's legs looks like an enormous penis. Even though Quaintance modified the design, it was still not acceptable. The journal entry concludes, "Quaintance to bring replacement for censored picture." You can view the final spread on pages 16-17 of the Fall 1957 Physique Pictorial.