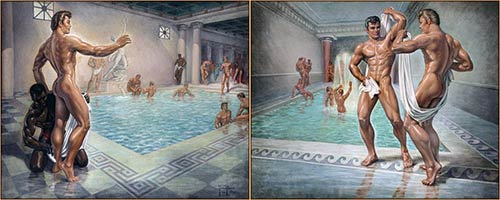 The next two lithographs were printed simultaneously: Baths of Ancient Rome and Spartan Soldiers Bathing. These were smaller than the previous pair, with the actual print area measuring 14x11 inches. Only 10 of Quaintance's 54 canvases of the Male Physique period had a horizontal or landscape orientation, and these are two of them.
The black and white photos of these two paintings could never to justice to the subtle reflections in the water and on the tiles surrounding the pools, so this pair of canvases was an excellent choice to become the next two color lithographs.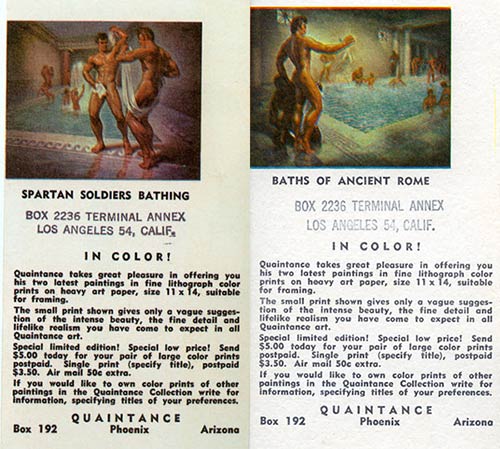 This time, the ads for the lithographs were also in color, and the Quaintance Studio printed individual color inserts measuring about 3x6 inches that could be slipped into an ordinary envelope and mailed to prospective customers.
The lithographs were sold for $3.50 each or $5.00 for the pair. "Airmail" delivery, a postal service that became obsolete in 1975, was offered for an additional 50 cents.
There's a bit of mystery surrounding these two paintings. A collector in Los Angeles owns both of the original canvases, which he acquired directly from another collector who purchased them directly from the Quaintance Studio after George's death. Yet there's a third collector, living on Fire Island, who claims to have owned both original canvases; he emailed me once to say that one of the paintings was lost during a burglary but he still owned the other. Stories like this add fuel to the fire of whether Quaintance ever painted the same canvas twice — a good topic for a future blog entry and one on which I invite your input.