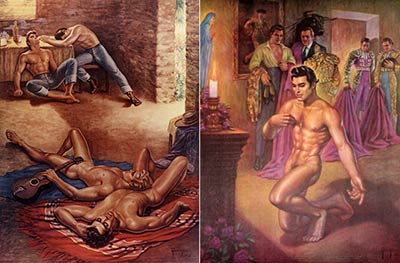 If asked to name Quaintance's masterpiece, most people will choose either Siesta or Preludio. Apparently Quaintance thought so too, because those were the first two canvases of his "Male Physique" period that he chose to reproduce as color lithographs.
He had always sold 8x10 black and white photos of his canvases to a public that had an unquenchable thirst for them — his mailing list was said to number over 10,000 names. Later, acceding to the demand for color reproductions, he began to sell color chromes, or slides, of the paintings. But the lithographs were new territory. They were printed in full color that carefully duplicated the original oils and printed on heavy stock with a 16- by 20-inch print area and ample margins. The selling price was $5. After Preludio was issued as a lithograph, you could purchase both for $8.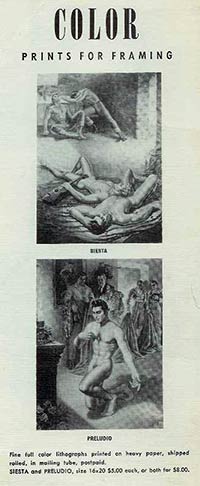 One early ad for Siesta bore this copy: "Because Mr. Quaintance feels 'Siesta' is his finest and most inspired work, he wishes to keep it exclusive to sincere admirers of his art. Therefore it will not be shown in PHYSIQUE PICTORIAL or any other publication distributed to the general public." The first edition quickly sold out and a second edition was printed, although the quantities (and the printer) remain unknown.
Advertising copy for Preludio was equally fulsome with praise: "Art Critics of two continents pronounce 'Preludio' the supreme masterpiece of all the Quaintance paintings. The compelling drama of this great work should be enjoyed in its full and brilliant coloring."
In the late 1990s, the Tom of Finland Foundation came into possession of all the unsold copies of both lithographs and offered them to the public — but at a substantially higher price.
Today, the original canvases reside on opposite sides of the continent — Siesta in a collection in Los Angeles and Preludio in a collection in New York City.