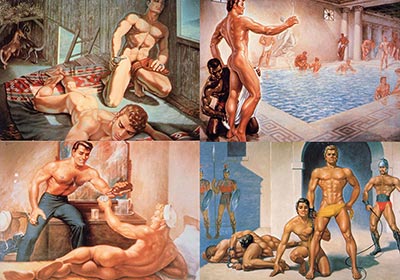 Back in 1981 or so, a "group of San Franciscans" founded an organization called the National Gay Art Archives. Proclaiming that George Quaintance was "the founding father of gay beefcake art," they submitted factually incorrect articles to several national gay magazines. One such article, published in issue #76 of In Touch for Men (February 1983), carried the byline of Ted Smith, a "founder and curator of the NGAA." Smith, according to one source, intended to write a biography of Quaintance but his life was cut short by AIDS.
The National Gay Art Archives advertised "seeking original works by Quaintance & other Gay artists." Some naysayers claimed that this was just a group of guys hoping to get collectors to donate gay art to their private collection, which they were misrepresenting as a nonprofit organization.
In any case, the NGAA printed a set of 12 notecards containing color reproductions of canvases by Quaintance. The reproductions were based on transparencies they obtained, and it is obvious in several cases that the colors were severely oxidized or otherwise deteriorated. The inside of each card is blank. On the back of each is the title of the painting and the year it was painted. The corner bears this text:
© 1982 Fun House
724 Fillmore Street
San Francisco, CA 94117
(415) 864-6386
Measuring 5x7 inches, the cards came with envelopes and sold for $15 plus postage; a catalog was offered for an additional $2. Those cards are still sold online today, for $3 each with a minimum order of $12, mix-n-match, or $18 for the set of 12 different designs. Go to www.art-books.com/cgi-bin/artbooks/index.html and enter "Quaintance" in the search box.
If you have any information about Ted Smith or the National Gay Art Archives, please email me or post a comment.