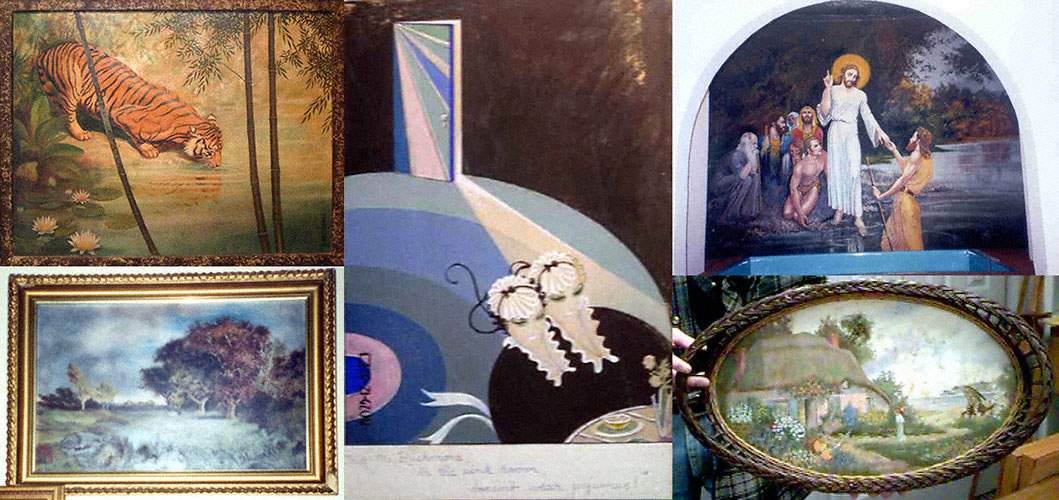 Quaintance painted many images that one would not normally associate with his name, and it might surprise many people to learn that he didn't paint male models at all until he was in his forties.
The single exception would be the mural he painted for the Stanley Baptist Church in 1933, at his mother's urging. The life-sized mural depicts the imminent baptism of Jesus by John the Baptist. Huddled on the shore are half a dozen worshippers — all male — one of whom is uncharacteristically clad only in a fur loincloth. That man is a thinly disguised version of Quaintance himself. This would not be the last time he painted himself into one of his canvases.
The landscape depicting trees in fall colors was painted by a 16-year-old George. Then he might have looked much like the strapping lad holding the dog in the banner at the top of this page.
Not much is known about the serving tray depicted here, other than that it was painted by George Quaintance. The tray now belongs to a cousin who lives in Quaintance's birthplace, Luray, Virginia.
The tiger is an oil on canvas that was painted in 1940. It is signed and dated on the front, in the lower right. This 24x32-inch canvas sold on eBay for $800 in 2005 — a steal. This is the only instance I know of in which the subject is an animal unaccompanied buy a human.
Finally, there is the odd French Maids postcard. It is signed at the lower left but not dated. The caption, which is not legible in this image, reads, "That Mr. Rushmore, in the pink room, doesn't wear pajamas."