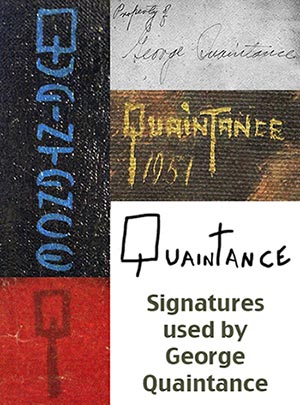 Over the course of his career, Quaintance used two basically different signatures. Initially, he painted his surname in squarish letters that ran vertically down the canvas. This remained his signature of choice until about 1942, when he adopted the signature most often associated with him: his last name printed horizontally, with exaggerated descenders on the "Q" and "T." The example shown (right, second from top) is an actual scan from the canvas After the Storm.
Sometimes, especially on magazine covers, he would use only the letter "Q" by itself.
For his sculptures, he used a stylus to scratch his name into the drying hydrostone, the plaster-of-Paris-like material that he favored for casting.
His actual signature is shown for comparison.