The Quaintance estate is in a fine mess and entrepreneurs have been exploiting it for years.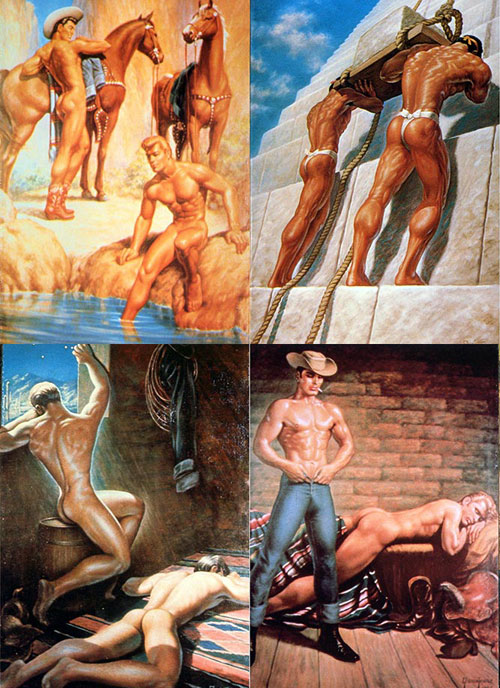 This is an over-simplification, but when George died in 1957, he bequeathed his estate, both business and personal, to his longtime friends and business partners, Tom Syphers and Victor Garcia. The will is a matter of record. Tom died in 1964, and either he did not leave a will (I have been unable to find one) or he left a will that was not probated, but privately executed. Thus, his half of the estate goes into legal limbo.
Victor died in 1987, leaving his share to his sister; she died in 2009, passing it along to her two children. I have been in touch with one of them. It would be very costly to pursue the legal steps necessary to reassert legal rights to the Quaintance estate and enforce cease-and-desist actions against the people and organizations that have been profiting from the illegal sale and reproduction of Quaintance's art. They have no interest in doing so, and they have no interest in transferring their share of the rights to anyone else.
The first major incursion against the estate came in 1982, when a company calling itself Fun House produced a set of notecards featuring 12 Quaintance paintings. The cards measured 5x7 inches and came with ivory-colored envelopes. The source of the images was not the paintings themselves. The color reproduction on some cards is garish and inaccurate, probably as a result of using color-oxidized chromes as the source.

The most egregious example of exploitation is the color reproductions of the paintings that are ubiquitous on eBay. None of those are authorized, nor were they produced by the estate. During Quaintance's lifetime, the only color images he offered were nine color lithographs: Preludio, Siesta, Spartan Soldiers Bathing, Baths of Ancient Rome, Falconer, Hercules, Noise in the Night, Bacchus and Rodeo Victor.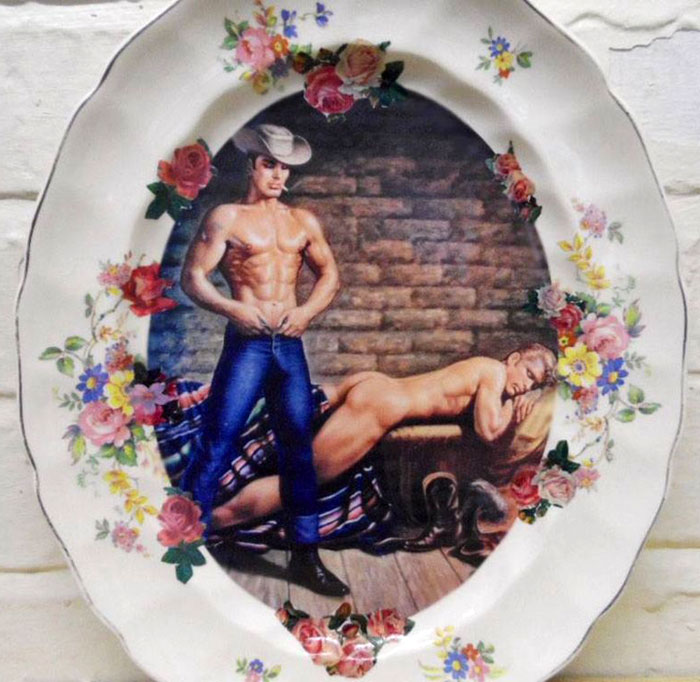 Quaintance probably intended to produce color lithographs of his remaining paintings eventually (he commissioned a proof set of them all), but he died before any were reproduced. The proofs languished at Rancho Siesta. When Tom died, a "friend" took them (and other things) from the studio, on the pretext of protecting the contents of the studio from curiosity seekers, saying he would return everything later. Nothing was ever returned. The proofs changed hands and were reproduced en masse and sold online as color giclées in various sizes, and as color prints. The true origin of these was never disclosed to buyers.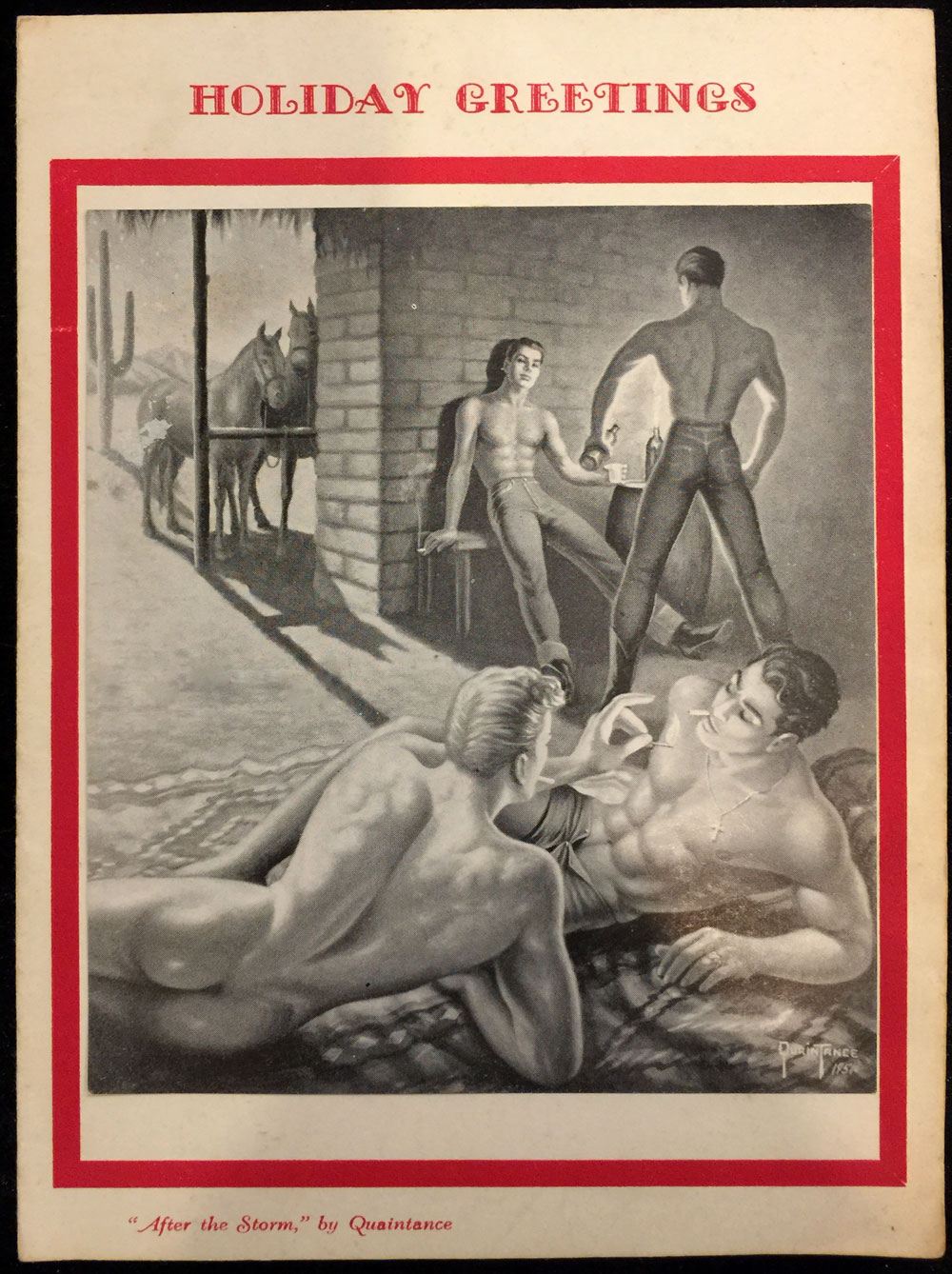 Other violations followed: decorative tiles, wrist cuffs, serving platters … who knows what will turn up next? One reader of this blog recently sent me images of greeting cards that were created by a fan and used as Christmas cards. The front of each has a black-and-white photo, reduced in size, glued onto a pre-printed card. There's a holiday greeting at the top; the title of the painting (which is incorrect in this example) is at the bottom. The inside of the card reads "The time of year for good friends to get together" and "Best Wishes for a Very Merry Christmas and a Gay New Year." The sender's full name and address are printed on the back.
There is a particularly dispiriting side to all of this. Potential legitimate users of Quaintance's images are discouraged from doing so because there is no one from whom they can obtain legal permission and they don't want to risk a lawsuit. The producer of a gay film recently asked me about getting permission to use an original canvas on one of his sets, but he did not do so because he feared a lawsuit from the estate. The same thing happened when a promoter wanted to advertise a gay art retrospective at a gallery. I tell these people, "just do it," but they don't. I wish it were otherwise.