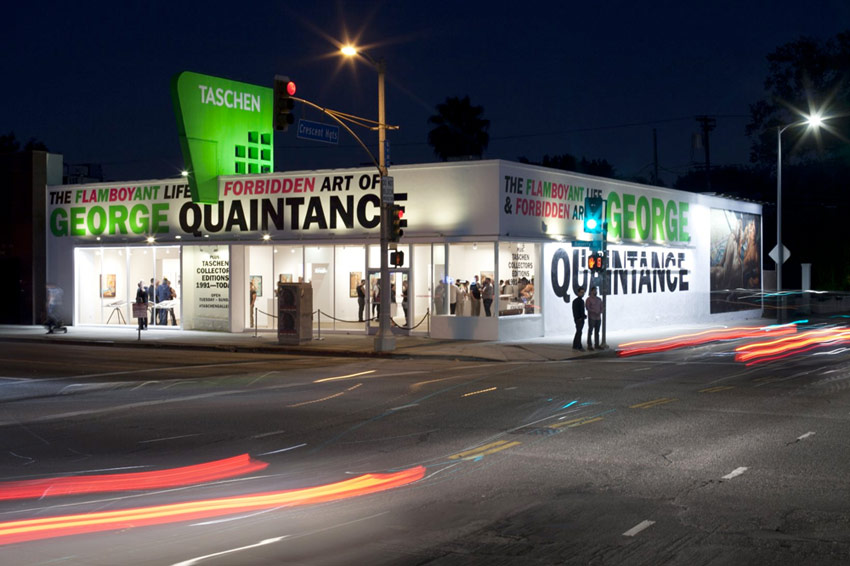 Fifty-eight years after his death, George Quaintance is finally getting his first one-man show. Approximately two dozen of his iconic male physique canvases, plus a large pencil sketch, a formal portrait of handsome young Peter Barclay, and two sculptures, will be on display at the Taschen Gallery, located at 8070 Beverly Blvd. (at Fairfax) in Los Angeles. Many of the pieces are for sale.
The show runs from July 3 to August 31, 2015. It is titled "The Flamboyant Life and Forbidden Art of George Quaintance." Gallery hours are 11am-6pm, Tuesdays through Saturdays and noon to 5pm Sundays. The gallery is closed Mondays. Admission is free. Those who are not able to visit can take a virtual tour by clicking here. (Note: if you are reading this after the show closes, the link may not work.)
The works on display are the private collection of publisher Benedikt Taschen. Most were acquired as a lot from a private collector in Florida, who purchased them directly from the Quaintance Studio half a century ago. This is practically the first time they have ever been seen by anyone except the owners.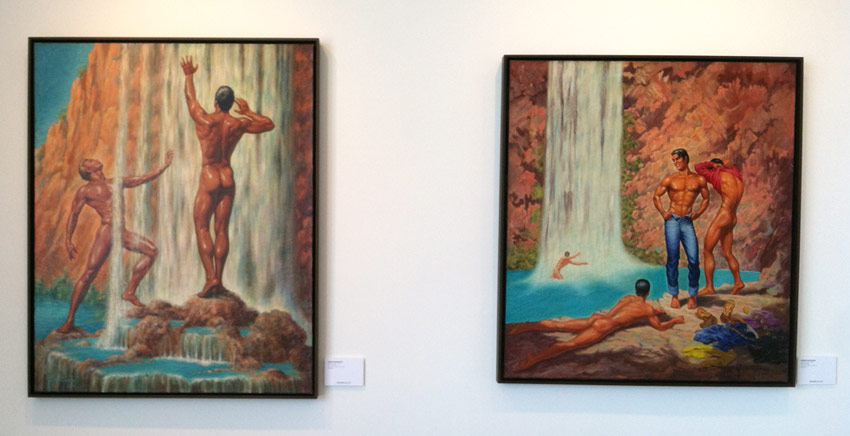 A wall display and a glass case show some of the magazines for which Quaintance designed covers and they also depict art from other phases of his career.
One of the most dramatic aspects of the show is the reproduction of the lower half of Night in the Desert, in a 10-foot high mural that emblazons the street-side west wall of the gallery. Long-time Taschen editor Dian Hanson emailed me, "You should have seen the looks from passing cars as we were installing it. I'm surprised there were no crashes."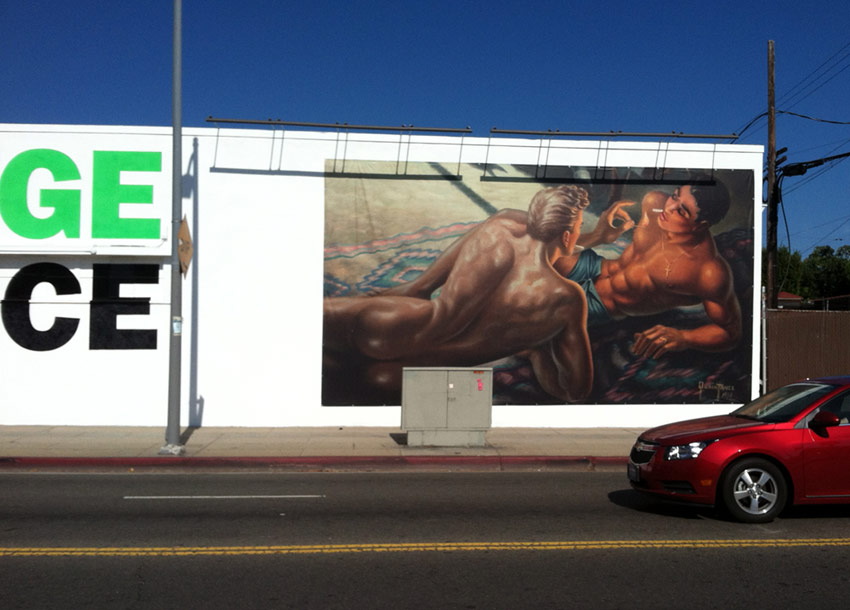 Over the course of his career, Quaintance painted hundreds of canvases, many of which were occasional landscapes, femme fatales and portraits of diplomats, socialites and celebrities. But he is best known for 55 iconic works of handsome, muscular, minimally clothed gods, cowboys, gladiators and all-around hunks of many races that he painted in the final years of his life. Most of these originated at the Phoenix studio and residence he called Rancho Siesta.
While it is exciting to at last see a show celebrating this overlooked artist, I can't help but be disappointed that Taschen chose to display only his own collection. The exhibition would have been immeasurably enhanced by expanding it to include a comprehensive array of the iconic paintings, other paintings, more sculptures, early lithographs, wall masques and more. Or, as Oliver Twist might say, "Please sir, I want some more."
Photo of the gallery at night courtesy of Taschen Gallery