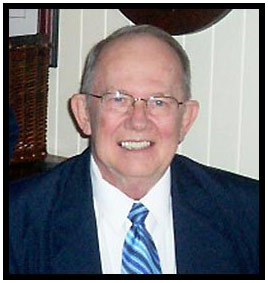 It is with great sadness that I report that my friend, colleague and co-author, John Waybright, has died. His family notified me that he passed away at 12:10 P.M., May 10, 2013. He gave his body to science.
John was a retired weekly newspaper editor. He earned Virginia Press Association awards for columns, editorials and newspaper page designs. He lived in Luray, VA, not far from George Quaintance's birthplace in rural Alma, Va.
In 2002, when I purchased a collection of Quaintance material at an estate sale, I searched the Internet for more information about Quaintance and that search led me to John. An email correspondence ensued, and after determining that there was little authoritative information about Quaintance in print, we decided to collaborate on a definitive biography. We agreed that John would write about the artist's years on the East Coast and Ken (Furtado) would depict the years Quaintance spent in Los Angeles and Phoenix. Not only was John born near Quaintance's birthplace, he was a personal friend of one of Quaintance's only living relatives, who opened the family archives to him.
Equally fortuitous was the fact that Ken lived about two miles from "Rancho Siesta," the fabled studio-residence of George Quaintance during most of the final six years of his life
The two writers hardly realized the immensity of the task they were about to undertake. Almost no correct information about Quaintance's birth, childhood, career, personal life or death was recorded in easily available publications. The research, extending over a period of several years, had to be done in original sources: birth and death certificates, newspaper and magazine articles, scrapbooks, correspondence with family and friends and interviews with those who actually knew the artist.
The project wound in and out of several mysteries: What happened to Quaintance's lifelong partners after the artist's death? Were some of Quaintance's paintings done in multiple versions? Who was George Quintana, an artist who illustrated the covers of "girlie" magazines in the 1930s with a style and signature similar to Quaintance?
The writers answered many of the questions and unearthed previously unknown details of George Quaintance's life and work. The final manuscript, however, has languished. Countless publishers — gay, gay-friendly and mainstream alike — have rejected it. I regret that John did not live to see the fruits of his labors in print.