Quaintance was a man who liked to be in a relationship, and he had several illustrious partners, even if their renown was not widespread or did not outlast them. One such lover was Ron Nyman (1924-2000), younger by two decades.
Nyman was also an early business partner. They had stationery and business cards printed with both their names. Then Quaintance decided, as he later wrote to a friend, that Nyman was "a gold digger" ... and he kicked him out. Rather than waste good stationery, Quaintance carefully lined out Nyman's name on the remaining letterhead and business cards, and continued to use them.

Prior to the split, Nyman also modeled for three canvases produced by Quaintance in 1952. He is the manacled muscleman in Sacrifice, the foreground figure in Reverie and the reclining nude in Idyll.
Nyman went on to a successful career in film and television, as Ron Nyman, Ronnie Nyman or Ronald Nyman. He was one of the nubile chorus boys in Gentlemen Prefer Blondes and had lesser roles in The Ten Commandments, The Seven Year Itch, A Star is Born and many other well-known films, as well as having a recurring role as a police officer in the TV series, Mannix. An Internet search will turn up lists of his films.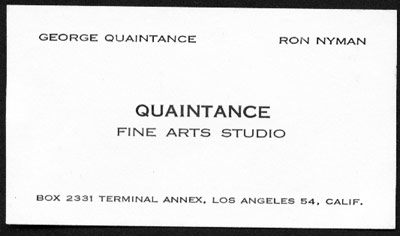 BTW
The original oil painting of Reverie turned up in an estate sale and was sold at auction in 2010 for a meager $9000. The auction house apparently didn't know much about the work of Quaintance because it didn't do much research for the listing, which assigned the canvas the title Apollo. If you look carefully at the furthest pillar, you will see that the brunet by the pool is being spied upon by an unclothed blond hunk. The pairing of blond and brunet is a consistent characteristic of Quaintance's paintings.