In the 1930s, Quaintance seemed preoccupied with depicting disembodied heads. He did it in lithographs, on book dust jackets, in advertising imagery and, when that was not enough, he ventured into the third dimension. The result was a series of wall plaques in high relief that he collectively called masques, while giving individual titles to the various faces.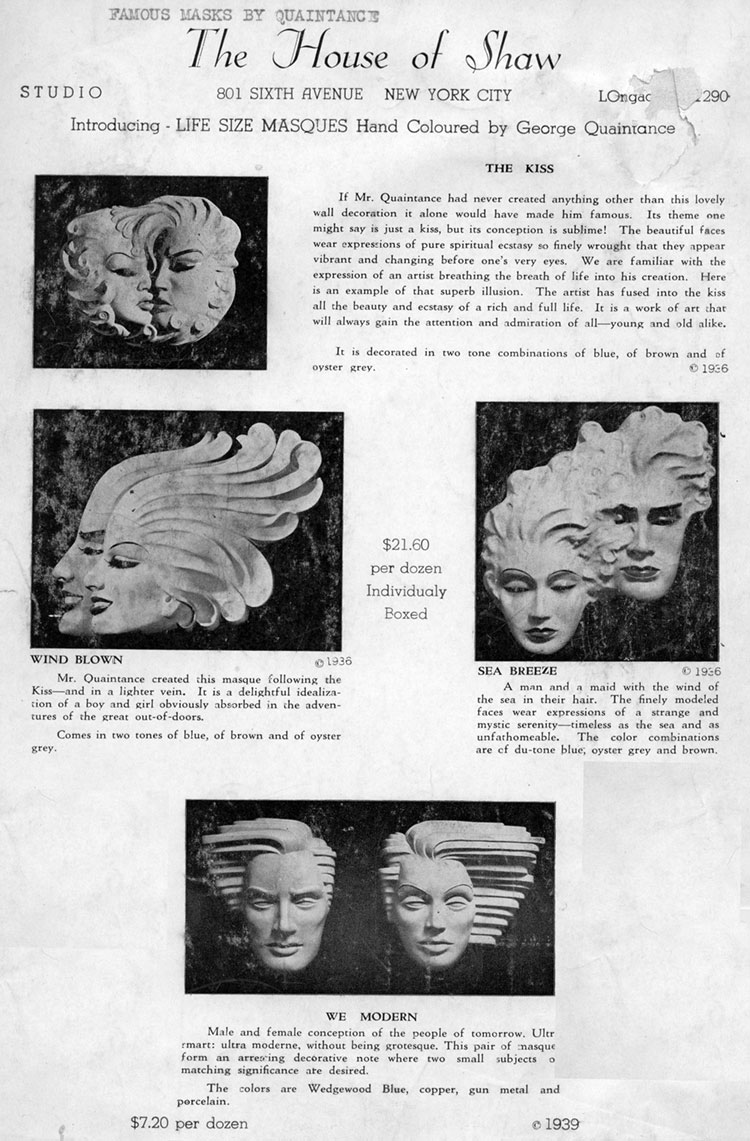 First was The Kiss, in 1936, a male and a female face joined at the nose and at the lips. The advertising copy, riddled with spelling errors, is almost embarrassing in its prose: "beautiful faces wear expressions of pure spiritual ecstasy so finely wrought that they appear vibrant and changing before one's eyes." This masque was followed by Wind Blown and Sea Breeze. The sculptures originally sold for $21.60 per dozen, individually boxed. Each was two-tone blue, two-tone brown or two-tone gray, although many of those that surface today have subsequently been painted other colors by their owners.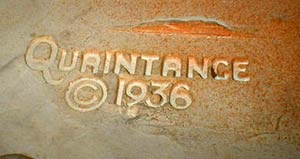 We Modern was a later sculpture in which the male and female heads are separate pieces and the colors are "Wedgewood Blue, copper, gun metal and porcelain." These singles sold for $7.20 per dozen.
This was Quaintance's hair era, in which he designed hairstyles for celebrities of stage, screen and society and traveled to promote hair products and lecture about hairstyling. Consequently, the hair on these masque models is fabulous, right down to details of eyebrow, eyelash and sideburns.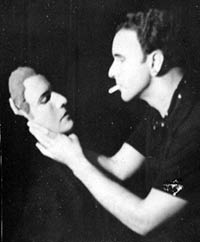 The sculptures are signed on the back with a stamp that bears the name Quaintance, a copyright symbol and the year. They were cast using a material called Hydro-stone, an extremely hard and strong relative of Plaster of Paris that is still used today for casting.
Quaintance also cast a life mask of himself, though it was never mass-produced nor offered for sale. In one of his scrapbooks there's a snapshot of him, cigarette dangling from his lips, contemplating his own visage in plaster.