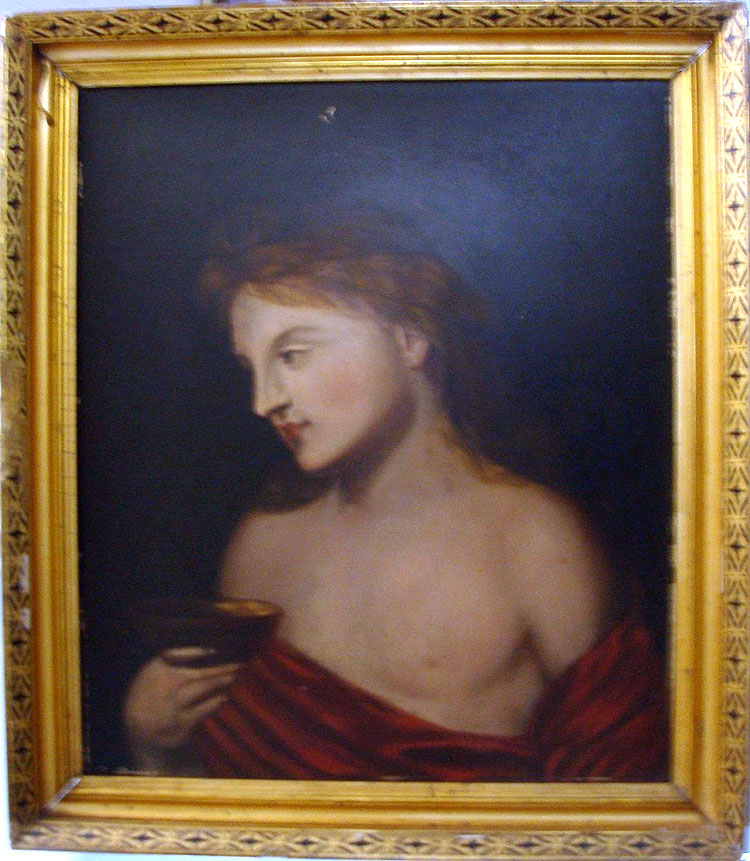 You are looking at a very early work by George Quaintance that was probably painted before the artist left his native Virginia to attend art school in 1920. It was discovered earlier this year. The story follows.
George's mother, Ella Belle, remained emotionally and geographically close to her sister, Nannie Finter, throughout her life, even naming her daughter Nannie. Young Nannie died in 1920, and George's father died in 1945, so when George's mother died, years later, much of her estate passed to her sister. Her belongings included nearly every painting young George produced before he left home for art school, carefully preserved by his doting mother. Those paintings ended up in the Finter home — some in the attic or closets. Today they are carefully maintained by Nannie Finter's grand-daughter.
Regarding the new painting, in a recent email, she wrote, "The only paintings stored in my parents' home are George's. They wouldn't be here in Virginia if they were later (than when he left for art school). After he left to go west I don't believe many of his pieces made it back here. Interestingly, I recently found another oil that I'm sure George did. I found it only recently while doing a thorough cleaning."
She and I disagree as to whether the newfound painting is a fanciful self-portrait. She thinks it is a girl; I think it's a boy. She has the advantage of owning and being able to view the actual painting. It is oil on academy board and measures 17x20 inches. The painting is unsigned. The subject is a rosy-cheeked youth with delicate facial features and wispy reddish hair, holding a cup. It must have been painted before 1920 in order to have been passed down as part of Ella Belle's estate.
Readers of this blog are invited to submit opinions and reasons as to whether this is a boy or a girl.